Chem-Verse Consultants (India) Pvt. Ltd. (CVC) is managed by MAVANI group having highly qualified technical people with extensive experience in the field of chemistry and engineering operating for over 33 years, since 1979.
Chem-Verse Consultants (India) Pvt. Ltd. (CVC) is an ISO 9001:2008 certified company having full-fledged oil blending, grease compounding & Aerosol filling lines with fully equipped R&D and Quality Control laboratory offers very advanced, high quality Specialty Maintenance chemical products such as Cleaners, Lubricants, Rust preventives, Protective Coatings, Release Agents, Polishes, Sprayable Greases etc. They are available in bulk packs and handy Aerosol cans for "Quick Maintenance". The company is well equipped to meet statutory requirements of Safety, Fire Hazards etc. Its laboratory is equipped with latest instruments to carry out all desired tests based on BIS, ASTM & IP (UK) test methods.
The company specializes in providing effective & innovative solutions to the industry for improving productivity, cutting maintenance costs, increasing efficiency, reducing pollution, prolonged equipment life, reduced breakdowns, enhanced safety of equipments & saving energy through its eco-friendly MRO (Maintenance, Repair & Operations) range of chemical products. It has also developed a number of Import Substitutes against such products manufactured by multinational companies in India.
Its new generation CVC / SYNOL Specialty lubricants are based on green chemistry, which is biodegradable and eco friendly. CVC / SYNOL Lubricants are synthesized from natural oils, which have inherently more affinity to the metallic surfaces thereby reducing the friction considerably, and provide energy saving during operation. They are having better oxidation resistance and therefore last longer than the conventional oils. CVC / SYNOL lubricants are very effective for critical & severe operating conditions such as extremes of temperatures, heavy loads, high speeds, high vacuum, dusty and abrasive environments, corrosive atmosphere etc. These natural oils are renewable resources and their use will become a "must" eventually for every lubricant user, as petroleum resources are fast depleting.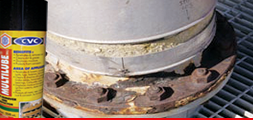 For more information please visit Messrs Chem Verse website:
www.chemverse.com